24 option is one of the best binary option brokers out there. They are an excellent option for all beginners who wants to start trading with binary option. They allow you to open an account with a very small deposit and offer good trading tutorials. The majority of their options are based on stocks but they also offer options based on different indices, currency pairs and commodities. They offer all types of binary options including regular options and super quick options.
24 options make it very easy to trade on your phone.
24Option Info
| | |
| --- | --- |
| Opened | 2010 |
| Owned by | Mika Holdings Inc |
| License | Cyprus Securities Exchange Commission (CySEC) |
| Mobile platform | Yes |
Trading software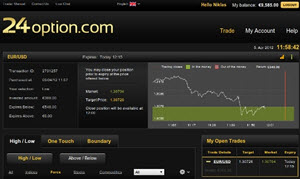 The software used by 24 option is very easy to use and navigate. It is as earlier mentioned one of the best options for traders that have no previous experience trading online. It easy to find what you need and all different types of binary options are very clearly marked. The platform is stable on both computer and mobile.
The software is browser based. You will never have to download any software to be able to trade. This means that you can trade on all computers regardless of what operating system you use. You can trade on both PC and MAC.
Trading on your cell phone require you to download an app. The broker offer apps for both Android and iOS (iPhone)
Accounts
24 options offer 3 different types of accounts.
Regular accounts: This is the account most traders start out with.
Gold account: The gold account is available to traders that turn over a large of amount of money trading with binary options at 24 option. Gold account members get a number of benefits including an extra 2% pay out on options that mature in the money.
Platinum account: The platinum account is for true VIP traders. It gives you all the perks of the gold account as well as a few others. Platinum traders get an extra 4% on their options that mature in the money.
Types of binary options
24 option gives you the chance to trade with a large selection of different binary options. Among the most popular you find.
Regular binary options:
This is the classic binary option where your goal is to predict whether the underlying instrument will go up or down. They give a 91% return.
Super short options:
These options works just like regular options but have a much shorter maturity. 24option offer options that runs for as little as 30 seconds. This type of options is mostly provided for liquid currency pairs. These options give a 67% return.
One touch options:
This type of options matures in the money if the underlying instrument reaches a certain level at least once within its maturity. It does not need to stay at that level until the option matures. It is enough that it is hit once. They can give more than 500% return.
Interval option:
The goal of this option is to predict if the underlying instrument will be valued inside or outside a certain interval at the time the option matures. It does not matter if the option goes up or down. Just if it stays within the interval or not.
Financial instruments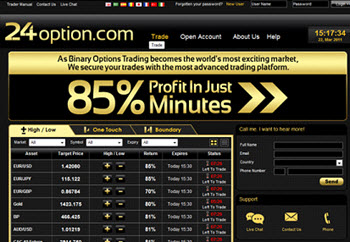 24 option base the majority of their binary options on stocks but they also offer a large selection of other types of binary options. Below you can read more about what type of financial instruments you can expect to find when you start trading using 24 option.
Index
They offer a small but well selected option of indices. Among the most well known of these indices you find Dow Jones, NASDAQ, Nikkei 225,FTSE-100, DAX-30, Bombay 30 and S&P 500. You will also find a number of smaller indices such as Tadawul and South Africa 40.
Currencies
24 option allow you to trade with binary options based on the most popular currency pairs. The main focus of their selection of options is based on currency pairs containing the USD or Euro.
Commodities
24 option make it possible to trade with most of the popular commodities such as gold, silver and oil.
Company shares
They offer a very large selection of different options based on stocks.
24 Option bonus
24 option offer a lot of different bonuses. They run a lot of small temporary campaigns and the best way for you to find out what campaigns they offer at the moment is to visit their website. The information that I am going to share below might not be true when you are reading this article. They regularly offer deposit bonuses to new and established traders. They also offer a number of other perks.
It is often possible to contact an account manager and negotiate your own bonus. This is specifically true if you are a new trader that want to deposit a larger sum of money. Make sure you have received the correct bonus before you start trading. Once you started trading it is too late to change the bonus.
24 Option sometimes offer risk free trades. You get your money back if the option don't matures in the money. These risk free trades can be instead or on top of the regular bonus.
If you trade a lot you should contact your account manager and see if he can raise you to a higher account level.
Visit this 24option page to find the latest bonuses.
Support
They offer support in a number of different languages. Support in English is available by phone, email and live chat.
You can contact the support by emailing them on info@24option.com or calling them on +357 25 262063. If you want to live chat with them you only have to click the link on the webpage to open the chat window.
Banking Options
24 option makes it very easy to deposit and withdraw money. Banking options that you can use to deposit money include (but is not limited to) Bank transfer, VISA, MasterCard, Other credits cards, Neteller, Skrill, WebMoney and Giropay. Some deposit methods can not be used to withdraw money. An example of this is MasterCard.
24 option allow you withdraw money once a month for free. If you want to withdraw money more often than that you will need to pay a fee.
The smallest deposit you are allowed to make is USD 250.