IG index is a well respect broker that primarily focus on CFDs (contract for difference) trade. They do however also offer binary options. The binary option section of their website is easy to find and it is easy to trade regardless of whether you are an experienced trader or not. The selection of binary options that you can trade with using the IG index platform is very limited and if you only want to trade with binary options and nothing else than you are usually better of by finding a broker that focus exclusively on binary options such as 24 option or banc de binary. If you want to be able to trade CFD:s as well as binary options than IG index is the best option by far.
The broker is very well established and was first founded in 1974. The company is listed on the FTSE 250. an index for the 250 largest companies in the UK.
The main reason that many traders choose IG Index despite their small selection of binary options is their very high payout. Regular classical binary options offer a 96% return if they mature in the money. This rate is hard to find with other brokers unless you trade enough to get a VIP account.
The higher return that you gain when you are trading using the IG index platform make it a lot easier to make money than what it is using other platforms with a lower return.
IG Index info
| | |
| --- | --- |
| Opened | 1974 |
| Owned by | IG Markets Ltd |
| License | Financial Conduct Authority (FCA) and by the UK Gambling Commission |
| Mobile | Yes, On both Android and iPhone. |
Trading software
IG index use a very good software that make it very easy to find every thing that you are looking for despite the very large selection of financial instruments that they offer. It is easy to trade with CFD:s as well as binary options. The software is developed by the company themselves and is only available at IG Index. The software is well developed and very stable. We have during our testing not experienced any bugs or other problems.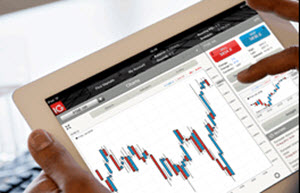 A very good feature in the platform is that is possible to sell your binary option at any time. You do not need to wait until the option matures to liquidate your asset. The value of the option is updates every second and you can cash in any time you want. This is a great feature to minimize loss and secure profits. You might sometime see a slight variation between the prize you liquidated the option for and the price you saw on the screen before you clicked. This is due to the near real time updating of the price. The value it had a few seconds ago when the page was generated might not be the value it has when you click the sell button.
The software is browser based and you can trade directly in your browser regardless of what operating system you use. It works on Windows, Mac, Ubuntu and most other operating systems.
The trading platform works just as well on mobiles as it does on your laptop. You will need to download an app to your phone to trade in your mobile.
Trading accounts
IG Index features several different account types based on your VIP status. The more you trade the better account you get. The better account you get the more perks you will receive.
They offer a standard account that you get automatically when you first register and two different types of VIP accounts. It is very important to know that you do not get promoted to VIP status automatically. You have to ask for it if you think you qualify. Do this by contacting your account manager. He will be able to bump you up or tell you what you need to do before he can do so.
They offer an Demo account that you can use to trade for free until you learned how every thing worked. The demo account is also useful for testing out new strategies before you start using them in your real money account.
Binary option trading
Binary options are as earlier mentioned not the main focus of IG Index. It is something they offer on the side of their main business. This means that they only offer binary option based on a low number of different financial instruments and only a limited amount of different types of binary options. All binary options are updated every second.
They offer a number of different regular binary options and super short binary options. They offer options with a maturity of as little as two minutes and as long as 1 month.
Learn more about how to make money trading with binary options with IGindex.
Financial instruments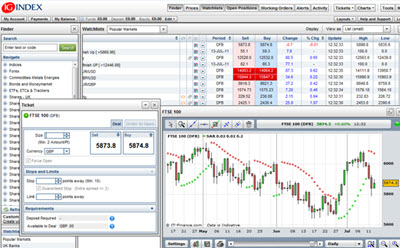 This broker offers a low number of options based on a low number of underlying instruments. The options are primarily based on different indices but they also offer options based on currency pairs and commodities. They do not offer any options based on stocks. The broker offer a smaller amount of none traditional options based on things such as the US Non-farm payroll report, political elections and the US jobless claims.
Index
IG Index allow you to trade with binary options based on more than 20 different indices.
Currencies
You can trade with a low amount of binary options based on the most popular currency pairs such as EUR/GBP, EUR/USD, EUR/JPY and GBP/USD.
Commodities
They offer a very low number of binary options based on commodities. The options are based on very popular commodities such as gold and oil.
Company shares
They do not offer any binary options based on stock.
IG Index bonus
This broker does not offer any bonus. They attract new traders with their high returns.
Support
IG Index offer a world class English speaking support. The support is available 24 hours a day and can be contacted using a number of different methods including phone and email. You can call the support on 0800 4096789, if you prefer to use email you can send them an email using helpdesk.uk@ig.com
They offer customer service in a number of other languages besides English.
Banking Alternatives
IG Index makes it possible to deposit and withdraw money using a long row of different methods. Among them you find wire transfers, bank cards and e-wallets. Some banking options are free while other carries a fee.