Banc de binary is a very popular trading platform that has a good reputation among traders. They are well known for a good selection of binary options, honest trading and very good support to new traders. Banc de Binary really goes out its way to make sure that they are able to help new traders become successful. They offer guides and instructions on how to trade. They also provide free videos and eBooks for those who want to learn more than the short guides can teach them.
The broker has been in business since 2009 and is operating using a license från Cysec, Cyprus Securities Exchange Commission.
The broker make it easy to trade binary options on your computer. They do when this is written not offer a mobile trading. We do however expect them to add mobile trading soon and we would not be surprised if they already have done so by the time you are reading this. Check their website to find out.
Banc De Binary info
| | |
| --- | --- |
| Founded | 2009 |
| Based in | Cyprus |
| Licensed by | Cyprus Securities Exchange Commission (CySEC) |
| Mobile trading | No |
Bonus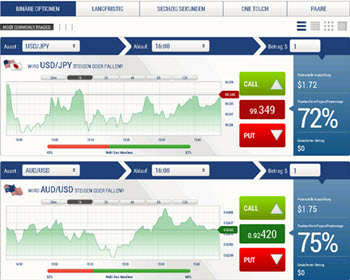 Banc de binary offer a large number of different bonuses. How much you can get in bonus when you make your first deposit depends on what type of account you open. If you are going to deposit a lot of money you should contact an account manager and negotiate a personal bonus.
Below you will find a couple of examples of the bonuses Banc de binary offer.
If you open a regular account (most traders do) then you will receive 25% bonus on your first deposit.
If you open a gold account (by depositing at least USD 2501) then you will receive 100% deposit bonus.
You should contact an account manager to negotiate your bonus if you plan to deposit more than USD 5000
Software
Banc de binary offer a well made software that is easy to use and navigate. The interface is very intuitive and it only takes a few minutes to feel right at home using the software. The software is completely browser based and you never need to download any software. The fact that the software is completely browser based means that it works equally well on all platforms. It does not matter if you use a windows based PC, an Ubuntu system or a Mac. The trading platform will work just as well.
The broker provide detailed guides so you can learn about all features that you can find in the software.
Banc de binary do not offer any trading apps for mobile trading. We do however expect them to start doing so and recommend that you check if they offer apps by the time you are reading this if mobile trading is important to you.
Accounts
Banc de binary offer a large selection of different types of account. The most common types of accounts are.
Demo accounts:
Demo accounts give you 50 000 in play money to trade with. This is a good way to learn how to trade binary options before you deposit real money. It is also a good way to try out new strategies before you apply them to your money account.
Standard accounts:
This is the account most traders get. You get a standard account if your deposit between USD 250 and USD 2500.
Gold account:
The gold account give you a much larger bonus than the regular account but you need to deposit more than USD 2500 to get one.
Personal Reserved Account:
This account comes with a long row of different perks such as a personal account manager and VIP support. The account is very popular among more experienced trades. You need to deposit more than USD 5000 to get this type of account.
VIP Lions Club Account:
This account is given to members who deposit more than USD 50 000. It is the highest level account that banc de binary offer. It give you access to a long row of different perks. If you first deposit is USD 100 000 or more you get additional special perks. The Lions club perks include a member card that can be used in countless hotels and other establishments.
Types of binary options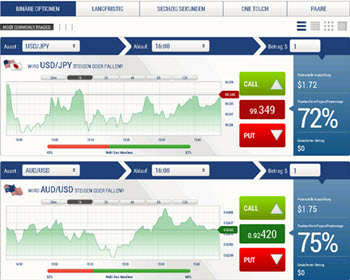 This broker offer a wide variety of different options and are regular introducing new and innovative products. They offer options with a majority ranging from a few seconds to several weeks.
The software give you access to a tool called "binary option building". This allows you to build the binary option you want to buy. The tool gives you the liberty to control almost all aspects of the the option you create including maturity and risk level.
Types of binary options available include
Regular binary options: The classic binary option where you need to predict in what direction the price of the underlying financial instruments is going to move. They give 81% return
Short options: Similar to classic options but with short maturities. They give a lower return than regular options.
One touch binary options: These options can give very high returns. Sometimes more than 500%. The option matures in the money of the underlying instrument reaches a certain value at least once during the maturity.
Stock VS Stock option: The goal when you trade with these options is to predict which stock is going to develop the best during the maturity of the option.
Financial instruments
Binary options offer binary option based on a large selection of different underlying financial instrument. You can find options based on your favorite index, currency pairs, commodities and stocks.
Index
Banc de Binary allow you trade with a good selection of different options based on indices. You can find options based on more than 20 of the most well known and popular indices in the world. They also offer options based on indices in emerging markets.
Company shares
Banc de binary offer a good selection of different options that are based on different shares. A large part of the stocks used are US companies but you can also find a large selection of options based on non US companies such as DEUTCHE TELECOM, FRANCE TELECOM and PETROBAS.
Currency pairs
You can trade options based on a limited number of currency pairs. The selection of binary options based on currency pairs is rather small and most of the available pairs contain the USD as one of the currencies. The exception from this a couple of Euro based pairs.
Commodities
They offer a small amount of different options based on different commodities. They offer option based on the most popular commodities such as gold, silver, platinum and oil as well as a number of farm commodities such as coffee and wheat.
Support
Banc De Binary offer industry leading support. The support is friendly, easy to contact and very knowledgeable. The broker offer support in a number of different languages. We have tried contacting the support in 3 different languages and they are equally friendly and helpful regardless of what language you want to use.
You can contact the support by calling them, email them or by using the live chat that you find on their website. If you want to send them en email you need to use the form on their website.
It is very convenient to contact the phone support. You will never have to wait in line because they will call you. All you have to do is to send them your phone number and they will contact you as soon as they can.
Banking options
Banc De Binary makes it very easy to deposit and withdraw money. You can use a long row of different credit cards and e-wallets to deposit movie. Among the banking methods that you can use you find Wire transfers, VISA, MasterCard, American Express, Skrill, and Western Union. Some methods that can be used to deposit money can not be used to withdraw money. An example of a method that only can be used to deposit money is MasterCard.
The minimum allowed deposit is 250 USD or the equivalent in another currency.